One day, you announced you were moving. I was in the middle of a crazy, hectic summer, and I said to myself, "I will find the time to help her. I will do something for them, this family who has given so selflessly for so many, including myself and my family." I thought about making a meal, offering to help you pack. I know you aren't one to ask for help, but I figured I would just come in and do it for you. Except I am still not very good at just barging in and helping, even if you are my sister. So, I did not very much of anything for you, besides making a Snickers Salad for your going-away dinner at Verdure.
I am sorry.
Truthfully, I think I have been in a bit of denial that you guys were really leaving us. Although I need you to know this: I am thrilled for you and your family that you get to experience this Grand Alaskan Adventure. Maybe I am even a little jealous. Just a little.
By way of apology, I hope you will accept a few pictures of that last evening at Verdure, until we meet again. . .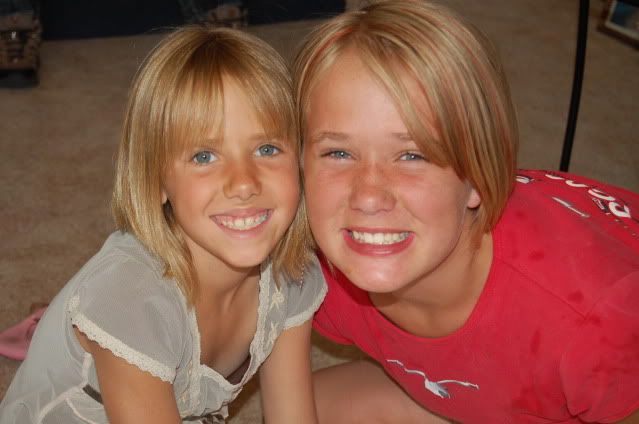 Rachel was so excited to spend some time with her cousin, Brittany. She even put together a little present, wrapped and everything, full of girly things like nail polish and stickers.
Apparently, other family members had the same idea, because Brittany already had a care package full of artsy things. Maybe we are not the only ones that noticed she likes being creative.
And dear, sweet Oaklee struggled the whole evening. Goodbyes are just hard. Here she is letting Tyler hug her.
. . . and keep reminding Olivia's mom to finish crocheting the doll purse she was supposed to make last year for Brittany's birthday (it is more than half done already, so you know).
and Tyler, too.
We love our Hughes cousins!
You guys, be safe. Keep us updated as much as you can. But most of all, just enjoy your experiences with each other there in Alaska.
Love,
The Barton family