After the parade, we headed straight to the quilt show. We were excited to see Tyler's quilt that she made with Grandma Gail and some other quilts of Grandma's that we knew would be on display. Grandma always has lots of fun things for the quilt show.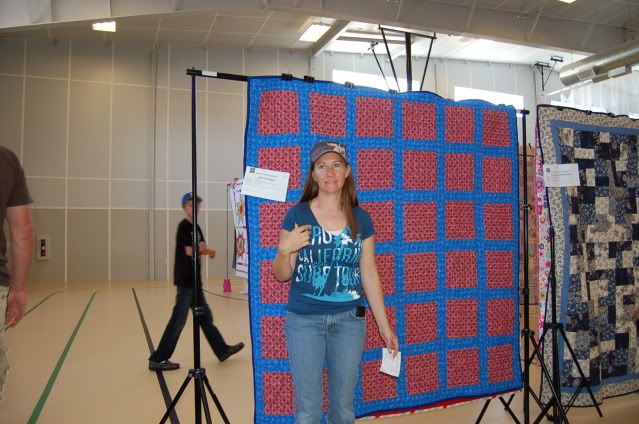 One of the first quilts we saw was this one, but my girls had to point out to me that I made it. (At least, I had started to make it, some 20 years ago in Young Women). Thanks, Mom for finishing it for me. It looks great!
Here is Tyler with her second place winning quilt. We didn't know she won second place at the time, but we all voted for her. :)
From the quilt show, we headed home to get swimsuits on. Then back to the wellness center to participate in Diving for Dollars. Tyler cleaned house last year, so we were looking forward to a repeat at the new pool.
Olivia is ready to go (she even got tips from her swim lesson instructor about where to find the best money)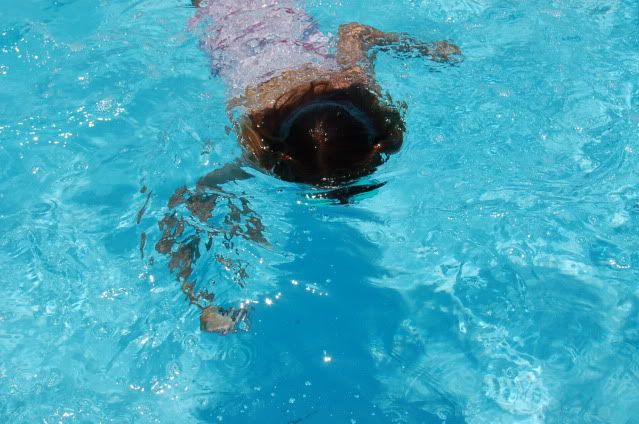 Too bad she dropped a few of the coins she was already holding. She still came away with $3.75 in coins. Go, Olivia!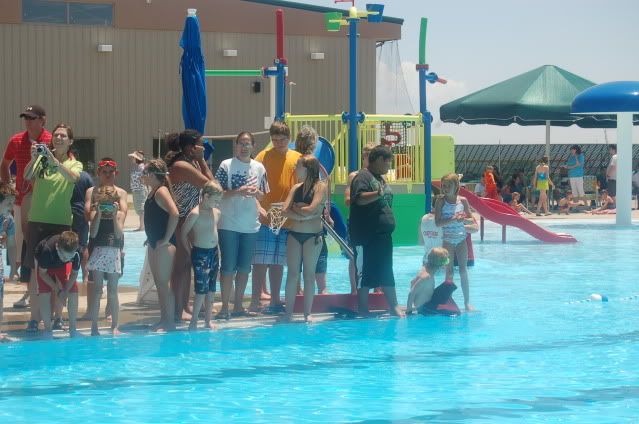 Pretty soon after this picture, one of the lifeguards prematurely blew his whistle. Half the kids jumped in the water (including my two) and began frantically grabbing money. It took several minutes to convince the kids to get back out. My girls got out pretty quickly and even threw their coins back in the water. After the false alarm, Rachel decided she didn't want to do it after all. It didn't help that even though the kids had been told to throw the money back, the pool definitely seemed to have less money in it than before. For some reason, Tyler forgot her goggles, so she didn't do as well this time. She came out of the water with $1.50.
I think they had fun, but now I was really ready to get something to eat down at the Centennial Park. We decided to walk the girls down still dressed in their swimsuits and let them air dry. That didn't take long in the 100 degree heat. I don't think we have had a day that hot all summer! Luckily, the lines were not too long and we were able to get what we wanted.
We were headed back when the boys decided to take a break from playing the X-box. We gave them some money and they got themselves something to eat while we came back and took a nap. That heat can really drain you!
Later that afternoon, Britt started working on cooking some dutch oven potatoes for a Scout Jamboree fundraiser. We are hoping Garrett and Cole can go to the National Jamboree in two years, but we still need to get them signed up. Anyway, that took a few hours that evening, besides going to the dinner and cleaning up afterwards. Thanks, those of you who purchased meal tickets from Cole. He still has raffle tickets for concert packages to go to the Joe Diffie Concert at the San Juan County Fair. If you are interested, let us know.
As it started to get dark, we headed over to our neighbors, the Rays, to watch them do some fireworks. Their son Jim and his wife and kids were visiting for the holiday. My kids had a great time playing with their kids. I was being lazy and didn't take any pictures. But it was really a lot of fun. Some of us even joined the Russells and their family up the street for some cool arial fireworks. It is still kind of weird to me that those aren't illegal anymore.
After that, Kd and Clay and their kids and Grandpa Worthy joined us on our front lawn to watch the city fireworks. Man, it was nice to not have to deal with the chaos and traffic of watching the fireworks down at the park! And since Olivia HATES the noise, it was better to be a little farther away.
All in all, it was just a really nice way to spend the Fourth of July Holiday!