A little bit about the food experiences on our trip: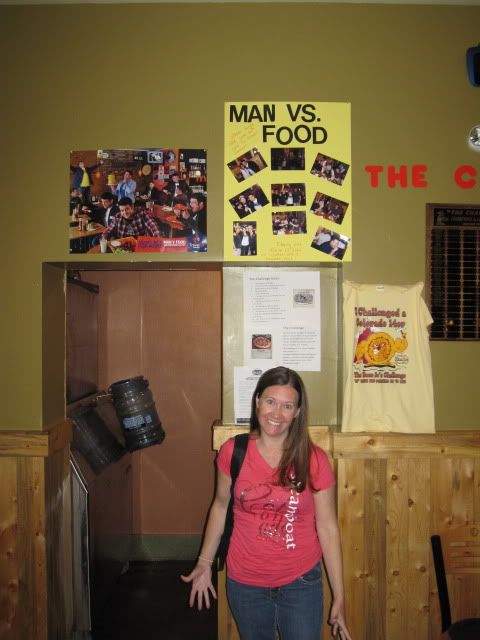 "Take the picture already!"
I told you before, one of Britt and my favorite things about these trips is discovering fabulous places to eat along the way. The truth is when we travel with our kids, we usually settle for the "safe" standard places to eat, like McDonald's (yeah, I admit it). But when it is just the two of us, we like to stop and ask the locals about the best place to eat in town. It's not always the most reliable advice, but usually we can find something interesting at least.
On Wednesday, we detoured a little bit off our route, so we could go to Telluride to eat lunch. Jesse recommended a Mexican place there where he had eaten before. It was good advice. Cocina de Luz was yummy. I had a tamale and cheese enchilada. They were both very good, but I preferred the tamale. And the Mexican Coke in a bottle with a glass full of ice was the perfect compliment to our meals.
That evening, we finally arrived in Steamboat just after 8:00 pm. I was feeling a little "carsick". Our crew had notified us (Jesse) that they would be eating dinner there, so we planned to meet them once we pulled into town. Good choice. I can't remember the name of the place, but the burgers came with a steak knife. They were huge, and the meat was juicy, and the toppings were fresh. Since I wasn't feeling well, I ordered a mushroom slider, which was quite good and really all I needed at that point. I had sweet potato fries that weren't the best I have ever had, but I actually liked them better than Britt's cheese fries.
I disappointed Britt a little by opting for the motel breakfast most days. I just wanted to save some money in our food budget where I could. But Britt is a breakfast person; he makes wonderful breakfasts at our house all the time. So, waffles, boiled eggs, and bagels didn't really cut it for him. One day, we ate breakfast out, at the Eggcredible Cafe (which incidentally I had a coupon for, back home. silly me). My breakfast was decent, a half order of Eggs Benedict California style. I enjoyed the avocados on my eggs, but the spinach was slimy, like it was cooked and like it was old. I just took it off and ate it without it. Britt ordered on the recommendation of the waitress. The stuffed burrito smothered in green chile sauce was huge and delicious. When Joe and Carol joined us halfway through breakfast, Britt offered half to Carol. She really enjoyed it also. Then Joe offered me some of his peach vanilla waffle. Oh my goodness! The waffle was almost cakelike, and the topping was like a cream cheese blintz filling with peach preserves. It was so good when Joe offered me more, I was thrilled to accept.
I already told you about Back Country Provisions for lunch in Steamboat. The place was highly recommended (we found out after we happened into there). I don't think I have ever had a sandwich with such fresh ingredients (and that includes sandwiches I have made myself). Britt was a little sad we had opted to split a sandwich. And the Ore House that night was kind of pricey but good. If I had a complaint it would be that the steaks were cooked a little more than what we had requested (all around the table). Still, the salad bar there was very good (if impossible to see the food because of the dim lighting) and the rolls brought out before dinner were good enough to almost miss dinner. But the highlight of that meal was the desserts. Mississippi Mud pie with a massive heaping of ice cream. Massive! The others enjoyed a brownie a la mode, also massive. Very, very good.
In Boulder, Britt and I determined we had to go to Beau Jo's, since we had seen it featured on Man vs. Food. Even though the rest of our crew decided to go to a nearby Chili's Restaurant. I didn't love the particular pizza that we ordered on the waiter's recommendation, but the stuffed mushroom appetizer was almost the highlight of our whole trip. And it was so fun to watch a cute couple one table over with their small children. It was like they were all on a fun family date. Usually I don't miss my kids all that much, but I really enjoyed how sweet these beautiful parents were with their young kids. Sometimes eating out with young children can be fairly stressful, but these guys all seemed like they were having their own private party. I loved it!
Lunch on Saturday is not worth mentioning (Carl's Junior). When we finally arrived in Gunnison late that evening, we were nervous we wouldn't find a place open late enough to accommodate us after we got checked in and pried ourselves out of our wet rain gear (wet on the inside). Luckily, the Palisade Restaurant was open. Very luckily. My french dip sandwich was really quite good, tons of sliced roast beef on a crusty baguette. Unfortunately, I could only manage to eat half. But fortunately, I also enjoyed a delicious bowl of fresh made tomato bisque. The perfect way to warm up after our cold ride.
Sunday, we spent about 30 minutes melting into Durango while trying to find somewhere to eat. Some of those places there aren't even open for lunch on the weekends. ??? We managed to find a Mexican place to eat there, nicely air conditioned, a good place to take a break. The food there was good also, not spectacular, but reasonably priced and pleasing to the palate. It was portioned almost exactly right for me also. Britt had a chicken quesadilla which for an appetizer was very filling. As a matter of fact, lunch was so good, we decided it was good enough to count for dinner, too. It was so nice to get home, safe and dry that evening, that once we rounded up our beloved children, we went straight to bed.
What are some fun places to eat you guys have discovered in your travels? What made you love it? There are still a couple places I would like to revisit just for the food, and they are thousands of miles away.
More about our ride when I next post. :)