Several years ago (you do the math), I went to school with these people: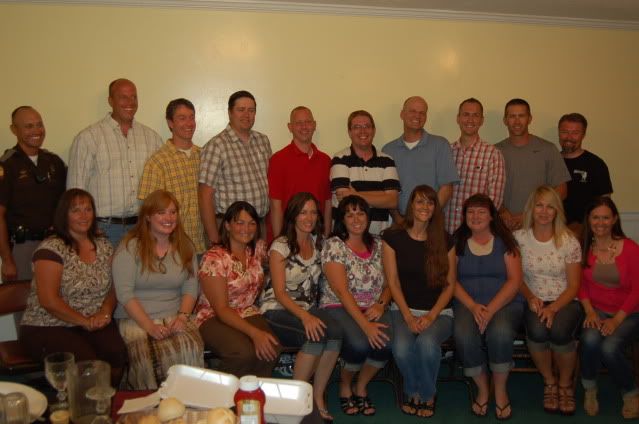 left to right: Mike Bradford, Denise Smith Johnson, Nielson Brown, Rebecca Lyman Jensen, Sterling Black, Shanni Bayles Call, Tim Chamberlain, Marilyn Lyman Roberts, Brian Eberhard, Sheila Bradford Stevens, Ben Byrd, Wade Stevenson, Mindy Wright Smith, Stephen Blake, Mindy Laws Taylor, Adam Black, Brittney Shumway Black, Scott Laws, me.
It was great to get to spend some time visiting and catching up with old friends. I kind of wish we could have all sat at the same table, because I missed getting to chat with everyone there. Brittney Shumway Black brought slides from our old senior slideshow. Can you say Wade Stevenson and Stephen Workman show? It was funny how many pictures there were of those guys in there, and Davi Johnson Black and Janae Shumway. Shanni brought a game to help us get to know each other better. Now they all know more about me than I might like. :/ No, it's all good! I wish more of us could have been there.
I can't believe it has been 20 years!