Our second day in Mexico was a Sunday. We slept in, for a good long time. We even ignored the girls who were up and excited quite a while before we were ready to face the day. Britt got up eventually and took a walk down the beach to find a spot for our Sunday church meeting, while I showered and got ready. At 9:00 a.m. the temperatures were already plenty warm, so the rest of our party decided it would be best to have our meeting inside.
When we planned the trip, we had hoped to attend church in the Mormon Branch in Puerto Penasco. But, as we researched it (we meaning Lisa), we discovered they would be having Stake Conference in another town. We didn't want to travel that far to try to find the location of a building they were not familiar with. So, it was decided we would have our own spiritual meeting, including a time to bear testimonies.
This was definitely a highlight of the trip for me. Several members of the group shared their testimonies of the gospel, many particularly mentioning their gratitude for how greatly blessed our lives are. Britt shared a beautiful testimony and related an amazing experience he had with a strong witness of the Spirit in an unusual place, on a crowded plane. The spirit in that crowded motel suite was profound, and it was such a wonderful way to begin our Mexico vacation. Each of the young men there used their priesthood to help bless and pass the sacrament; that was also very special.
After the meeting, we all broke our fasts with a yummy dinner, prepared in Lisa's little kitchen. Lisa planned all the meals for the trip, and many of the meals included ingredients from Thrive Food Storage, which she purchased at a Shelf Reliance party. It was all excellent food, and everyone was really hungry.
Then, it was time to hit the beach: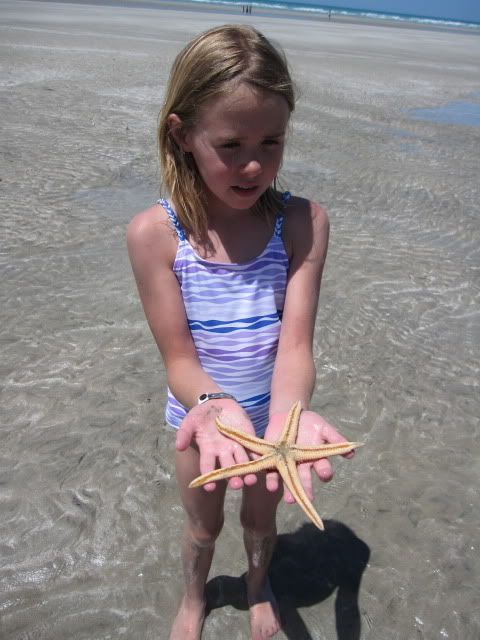 "Look, Mom! I found a starfish and it's alive!"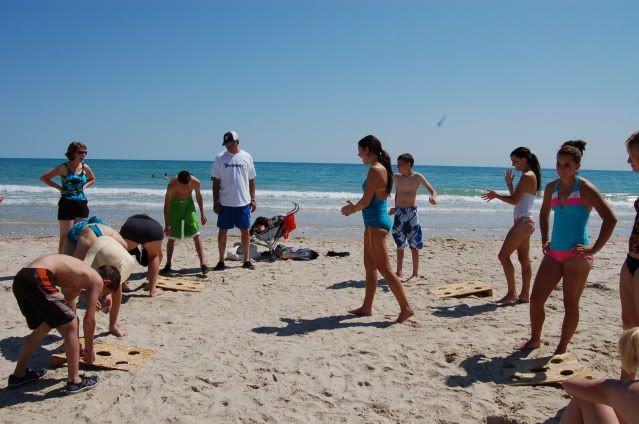 Playing in a washers tournament, organized by Megan. Maybe I will explain it in tomorrow's post. Sorry about the less-than-flattering shot.
Sunday was a lovely day at the Mayan Palace near Puerto Penasco, Mexico. Life is good.