The first day of our Mexico trip began at approximately 2:00 am on the morning of Saturday, June 4. Britt and I were determined to have all our packing done the Thursday before, so we could enjoy our Friday and get the rest we needed.
Unfortunately, it didn't quite work out that way. We were actually mostly packed, but Garrett did not get home until almost 11:00 Friday night from the Mountain Man Rendezvous. He still needed to get packed, so we worked on that for a bit and finally fell into bed, only to wake up a few hours later.
We rolled out of town a little after three in the morning, with Paul and Lisa Macdonald and their crew in the Excursion, as well as their married daughter Nicole, with her husband Jon and baby daughter Kaeda following in their car. We drove straight to Flagstaff, where we met up with Scott and Wendy Macdonald and their crew, who had come from Beaver, in two vehicles. After a brief pitstop, our convoy of five cars continued the trek south.
Our next stop was Avondale, outside Phoenix, where we ate at I-Hop. The staff there looked a little overwhelmed when we asked them to seat over 30 people, not counting the two babies. We were all quite hungry and enjoyed our meals and the time we got to visit there. Part of our crew took a quick shopping trip to Wal-mart while we ate. You know we have to take advantage of those moments when we can.
We all packed into our vehicles, doing a little kid-swapping. My daughters have been asking almost every day since we told them we were going to Mexico if Jon and Nicole would be coming, too. They were so excited to get to ride in the car with them and their baby. And I don't think they minded having someone else to keep Kaeda entertained. Cole was happy to have his friend Preston and Preston's cousin Taylor riding with us, as they all played their i-pods. Tyler wasn't exactly thrilled about being the only girl in the van then.
Now, everyone has asked me, whenever we told them we were going to Mexico, and where and how we would be driving down, weren't we afraid of crossing the border and all that? Well, yes. Of course, I was apprehensive about that. Don't we hear all kinds of horror stories lately. That part of the trip west and south of Phoenix, especially as we got closer to Phoenix, passing through some extremely barren, desolate country, wondering why on earth anyone would live down there. And then, as we got closer, seeing all the extra border patrol security checkpoints, when we were still several miles from the border, even seeing some people seemingly detained on the ground, by the border guards, that was really interesting (I must be tired; I can't think how I want to explain that).
Lukeville, right before we crossed the official border into Mexico. That is when I really started to get nervous. Did we need to change occupants? Since the documents for various riders were in different vehicles than those riders? No, they told us; that was only critical for coming OUT of Mexico. So, I am thinking, Dang, we better not lose those papers before then! The Macdonalds have a timeshare in this resort down there, so this trip is something they have done enough times to know what to expect.
Then, wow, actually driving into Mexico. I can tell you one thing for sure (besides the fact that the wind was not blowing at all and temperatures were close to 100 degrees there) it was nothing at all like crossing the border into Canada. I wonder if Canadians feel that way when they cross into the U.S.? ;) The amount of poverty there was so present, so blatant, and if you can believe it, the desolation even greater than what we had just passed through.
Several more miles and then Puerto Penasco (or Rocky Point, as many call it). The resort we were heading to was still some miles from there, but we wanted to purchase fresh produce from the grocery store there and eat dinner at a restaurant the Macdonald family has been to a few times, El Pollo Papago.
Waiting for the grocery shopping was a little hard on my little family. I didn't really want to go in with them. I admit, I was anxious, as I always am in a city with my young girls. I feel the need to be especially vigilant, keeping just beyond arm's length, which is exhausting.
It was really nice to park and hang out at the restaurant, where we had the whole place to ourselves. And then to enjoy an authentic Mexican bbq chicken meal with our friends.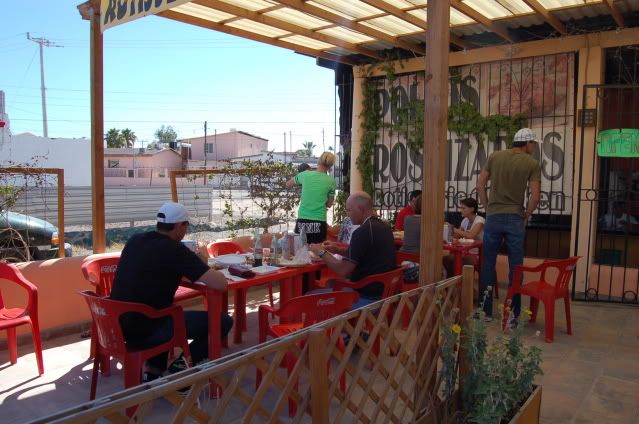 Britt and Paul enjoying their food
Some of the girls (LtoR): Briona Laws, Katie (Macdonald) Gunderson, Nicole (Macdonald) Kano, Laikin Shumway, and Megan Macdonald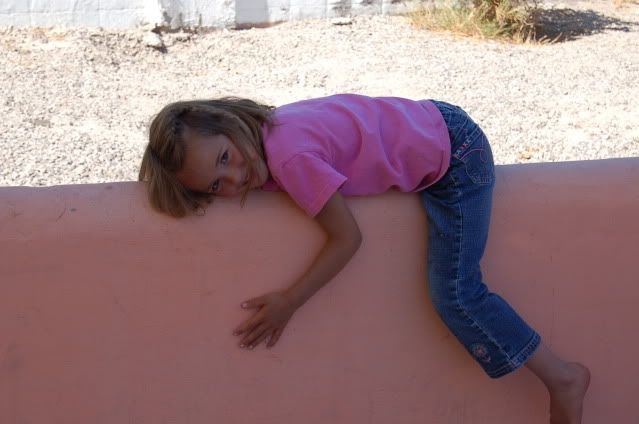 My Olivia (I was kind of germophobic, too. I get that way with my kids in cities)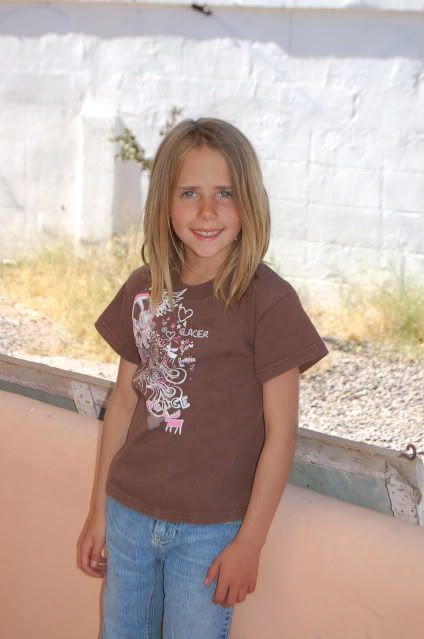 sunny Rachel
Kellie Macdonald, Lisa, Stetler Shumway, Cortney Macdonald
my girls
Taylor M , Cole, Ken M, Preston M, Garrett, Wendy and grandson Jacksen
The sons-in-law, Jon Kano, Kris Gunderson, Jace Sisneros, with Annie (Macdonald) Sisneros
Grandma Lisa loving on Kaeda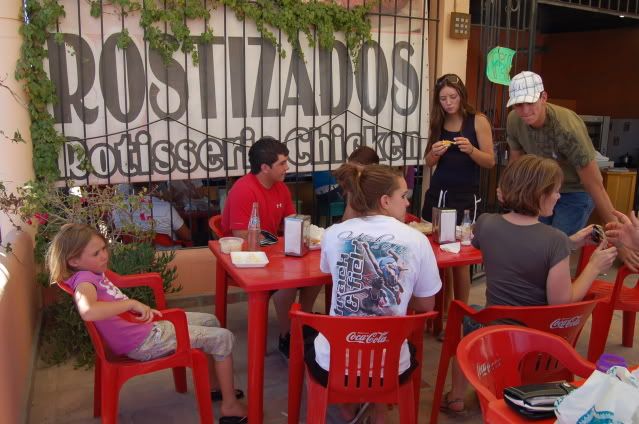 mmm, when's dessert?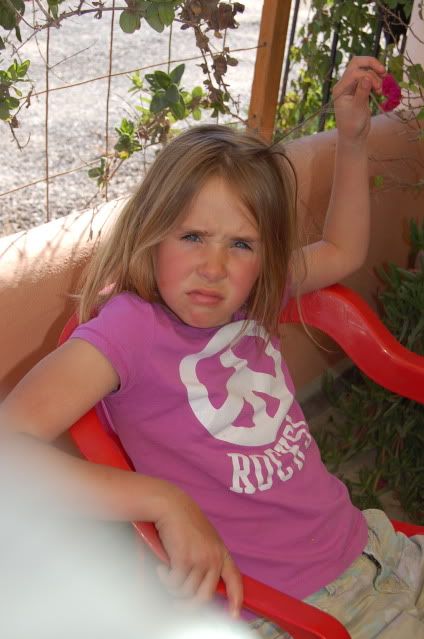 Tyler really is having a good time (I don't know what the hair-pulling is about)
So, our crew consisted of 29 people, plus 2 babies. I will break it down for you by families:
Our family of seven--you know us.
Paul and Lisa Macdonald; daughter Nicole and Jon Kano, plus Kaeda; Megan, her friend, Briona Laws; daughter Cortney, her boyfriend, Stetler Shumway, his sister Laikin Shumway; daughter Brittney, and son Preston.
Scott and Wendy Macdonald; daughter Katie and Kris Gunderson, plus Jacksen; daughter Annie and Jace Sisneros; son Ken, daughter Kellie, son Taylor.
One of the prevailing themes for Britt and I was that we were the in-between couple, not the newlyweds/new parents, but not the grandparents, either. Actually, we had a great time, and everyone got along wonderfully, even if Cortney did keep stealing her rooms' snack rations.
More later. . .
Post Edit: Okay, I got a few things wrong here. It appears it is 29 people, including the babies. Was anyone missing in the group picture except baby Jacksen, who was napping? Why was I thinking there were more of us? And, I called the town we stopped in near Phoenix Avalon and it is Avondale. Come on, guys! Help me out here. Also, the name of the place, El Pollo Papago, which is displayed in my previous Mexico post.
I forgot I also wanted to mention that we were visiting for a while with the owner of the restaurant, and he was telling us he will probably have to close down and seek employment somewhere like at the Mayan. He said business there has been really slow. And the tourists that used to flock there, especially on the weekends, are just so much more scarce. The Macdonalds were glad we chose to eat there again (sort of a tradition for them) because it could be the last time.
We are so grateful to the Macdonalds for "adopting" us into their family and including us in this vacation.